Balloons at Partymania!
Partymania have a huge selection of balloons for every occasion.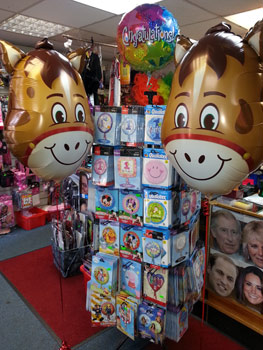 You can't have a party without balloons - the more, the better! Balloons in all shapes, sizes and colours, suitable for birthdays, engagements, weddings, hen nights, graduations, anniversaries, baby shower, new baby, valentines, retirement, corporate functions, etc.
We helium fill balloons while you wait.

To busy to DIY?

We can create professional balloon table and floor centres tailored for your every occasion.

OPENING HOURS:

Thur 17 - Sat 19 December 11am - 5pm
Mon 21 - Wed 23 December 11am - 5pm
Then closed until further notice